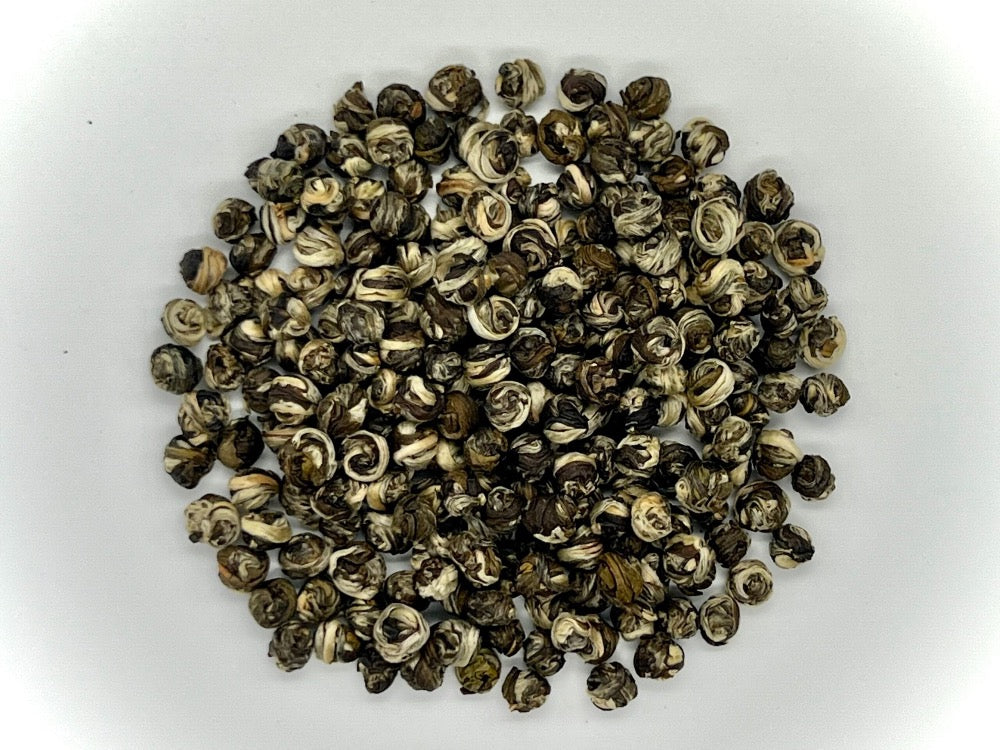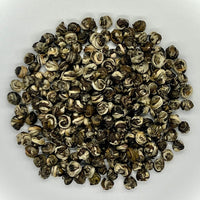 Jasmine Green (Organic) - Loose Leaf
Organic loose leaf tea with a delicate flavor of fragrant jasmine
Loose Leaf | 32g (Makes 16 – 20 cups)
Produced in Fujian province China, Jasmine Green Tea pearls are made from organically grown green tea that is infused 8 to 10 times with night-blooming jasmine blossoms, in a traditional method that has been used for nearly 1,000 years.
The delicate jasmine aroma melds with the fresh tea leaves and buds to create a soothing and magical tea experience. The dragon pearls are then created rolling two leaves to one unopened bud into small pearls. Dragon Girl Jasmine Green Tea is a staple for any tea lover's cupboard. Once it is steeped in hot water, the pearls unfold and reveal the full fragrant and delicious scent of the jasmine!
Be sure to tag us @dragongirltea on IG for a chance to be featured!
ABOUT OUR BOXES AND POUCHES
Our tea boxes and pouches are 100% recyclable.
ABOUT OUR TEA BAGS AND WRAPPERS
Our 100% compostable, unbleached tea bags are 3 to 4 times the size of regular grocery tea bags and are filled with whole herbs, tea, fruit and flowers. They contain no unhealthy additives, preservatives, cheap fillers, or low quality teas!
Our tea bags and wrappers are 100% compostable! They have been shown to break down in 30 to 90 days. The wrappers are made from corn, and are not harmful to the environment.
DGT co is doing our part to curb plastic pollution and environmental degradation. We hope you will support us, so we may keep doing our best!
SHIPPING:

Free shipping on the US on orders over $50.

Variable rates based on location on orders in the US, under $50.

Variable rates based on location for orders outside of US

RETURNS:

If there are any issues with your order, please email us at Hello@dragongirltea.com and we will be sure to make your order right.
Ingredients
Organic Green Tea, Organic Jasmine Flowers
BREWING TIPS
1. Put approx. 2 teaspoons of tea into your mug or small teapot.
2. Boil water at 180 degrees (medium bubbles).
3. Rinse your tea for approximately 5-10 seconds and dump out rinse water.
4. Pour water over your tea again and steep for 1-2 min. Remove loose leaf tea from the water (oversteeping could make it bitter).
5. Re-steep your tea 1-2 more times, increasing the steep time for each subsequent brew, enjoy!

FAQS
Green tea is filled with antioxidants and special compounds in the tea that are excellent at removing toxins and free radicals in the body. According to Chinese medicine, Green tea is cooling and is best to drink in spring and summer, or hot and humid climates year round. It keeps the body cool, helps the body to digest heavy meals, and is also very good for women's hormone balance.

With the addition of the Jasmine, green tea is no longer as cooling but is more neutral. It is very good for helping with an upset stomach, some headaches, and can even help a poor appetite. It is a must to have in your kitchen for both its intoxicating aroma, flavor and for its medicinal properties.
This tea is made when young green tea leaves are scented with fresh jasmine flowers over the course of many days, and then hand rolled into little balls (tea pearls). As you steep the tea, the pearls unroll displaying the glory of their full leaves and give off a delicious fragrance.
The short answer is yes BUT that is because most tea bags are made with bleached material, and are filled with cheap tea, fillers and low quality ingredients that are NOT good for health. If the ingredients do have any quality, it's usually in a small tea bag, ground up and you will have to steep the tea for 4 to 5 minutes to get the flavor out.  Our tea bags are STUFFED with whole ingredients and are totally chemical free and compostable. You only have to steep the bag for 1 to 2 minutes to get a smooth flavor that will not have any bitterness.Some tea lovers also just prefer loose leaf tea so that they can make it themselves and appreciate the tea leaves, while also enjoying the varieties of beautiful tea ware that are found throughout Asian tea culture.
Each tea has varying steep times and the specific directions are on the bag of each one of our products. Generally, we recommend steeping for 1 to 1 1/2 minutes for the first steeping and 2 minutes or more for the second steeping. For a much stronger flavor, you can try up to 3 minutes but green, white and some oolong teas can become bitter if steeped too long.
EXPLORE THE WORLD OF DRAGON GIRL