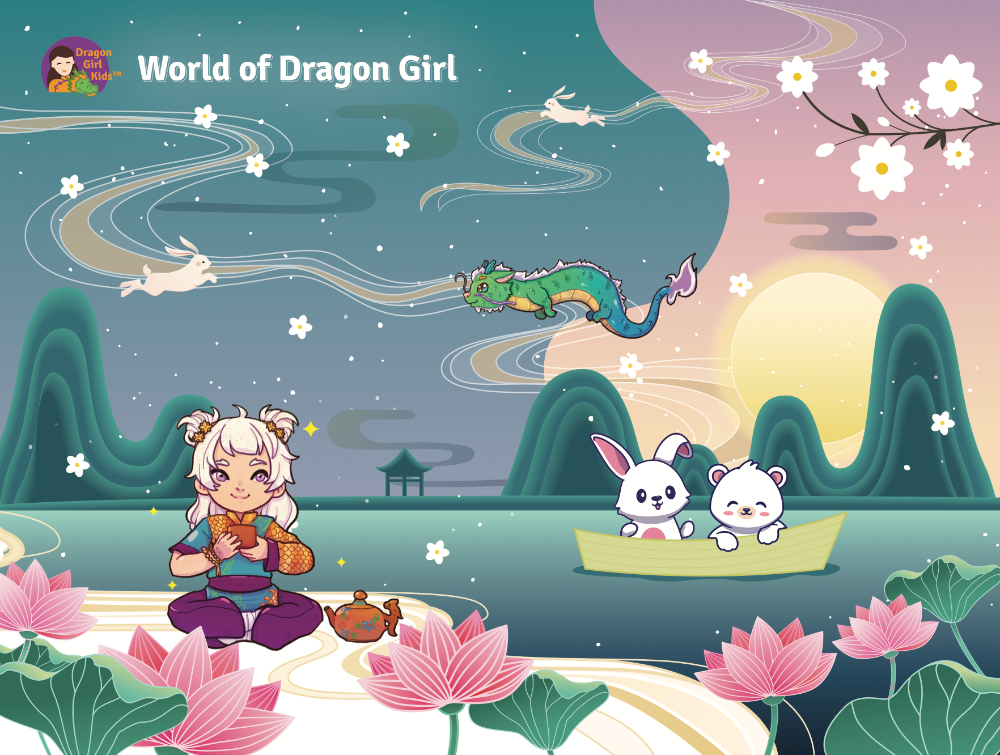 World of Dragon Girl Poster
Grab your World of Dragon Girl Poster to hang anywhere you want to feel the magic! See a glimpse of the amazing world with Dragon Girl, her pet dragon and her 2 mascot friends.
World of Dragon Girl poster is 1 of many posters in our collectible line, so be sure to grab yours and start your journey.
FOUND ONLY AT DRAGON GIRL KIDS CO., INC.
ABOUT OUR BOXES AND POUCHES
Our tea boxes and pouches are 100% recyclable.
ABOUT OUR TEA BAGS AND WRAPPERS
Our tea bags and wrappers are 100% compostable! They have been shown to break down in 30 to 90 days. The wrappers are made from corn, and are not harmful to the environment.
DGTco is doing our part to curb plastic pollution and environmental degradation. We hope you will support us, so we may keep doing our best!
SHIPPING:

Free shipping on the US on orders over $50.

Variable rates based on location on orders in the US, under $50.

Variable rates based on location for orders outside of US

RETURNS:

If there are any issues with your order, please email us at Hello@dragongirltea.com and we will be sure to make your order right.
Poster is 24 inches across and 18 inches high
Glossy and very colorful, this poster would make a fantastic addition for the imaginative person's collection.
World of Dragon Girl Poster
Dragon Girl is a magical character in The World of Dragon Girl. She has many mascot friends, teachers and spiritual protectors. The Dragon Girl has unique magical abilities, magical items and goes on many adventures-which are soon to be released!
Pictured in this poster, The Dragon Girl is having tea while Yum Tum Bear and Baker the Bunny are relaxing in their boat. Dragon Girl's pet Dragon is seen flying carefree in the sky behind.
The World of Dragon Girl was created by the founder of Dragon Girl Tea and includes Dragon Girl Tea and Dragon Girl Kids products, characters and stories. The Dragon Girl is a unique character that has magical abilities and travels to different magical realms helping others and having adventures. While Dragon Girl's adventures in The Tea Village are for tea lovers, The World of Dragon Girl includes many other stories and characters for both kids and adults alike.
Stay tuned for our newest Coloring Book for kids and for our full color Illustrated Story for all ages! Read more about The Dragon Girl here.
The poster is designed with beautiful saturated colors on thick glossy paper. It's perfect to hang on the wall by itself, or to frame. This magical poster is 18 inches high by 24 inches across.
The poster shows The Dragon Girl having tea, her two cute mascots, Baker the Bunny and Yum Tum Bear, and her pet Dragon flying behind in the fairy tale sky. Baker the Bunny and Yum Tum Bear are found on the front of our KIDS TEA pouches! Find more out about our KIDS TEA here.
EXPLORE THE WORLD OF DRAGON GIRL