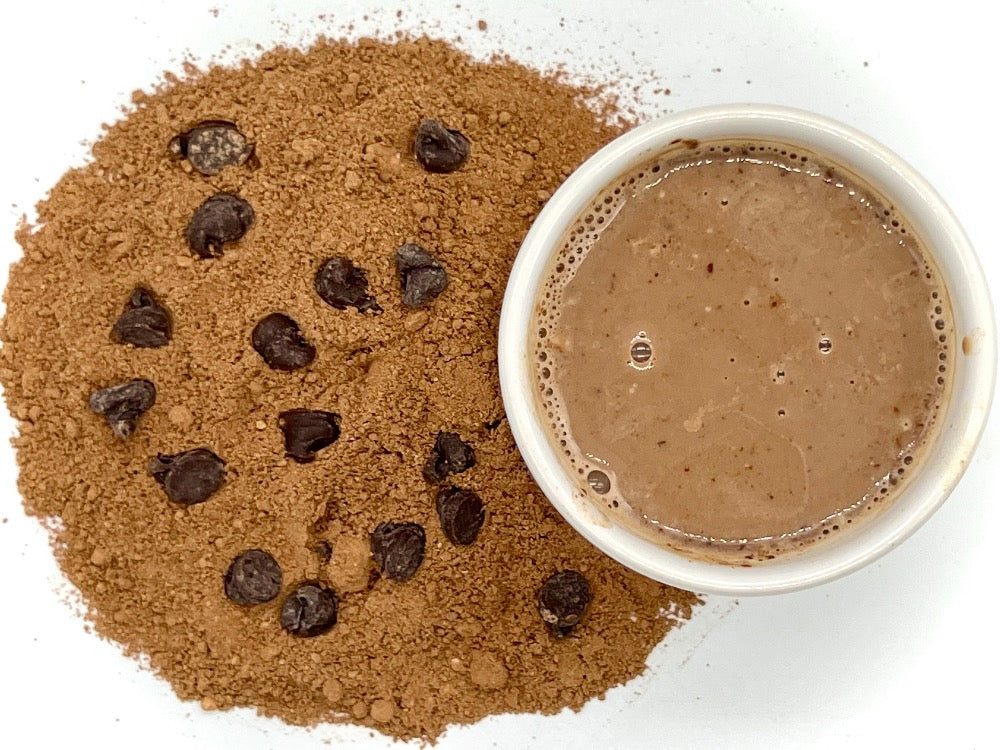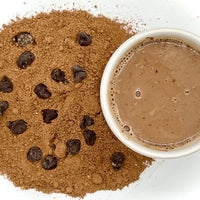 Mint Chocolate Chip Hot Chocolate
Creamy, delightfully fresh taste of mint chocolate chip ice cream
98 g (makes 8-10 servings)
Made with organic chocolate chips and organic fresh mint, this hot chocolate has the taste of mint chocolate chip ice cream or your favorite thin mint cookie!

It has the least amount of sugar of any of our hot chocolates and packs the most flavor per mouth full.  Like a liquid dessert, Dragon Girl's Mint Chocolate Chip Hot Chocolate is a healthier way to satisfy your sweet craving.  Our hot chocolate mix contains no preservatives or cheap fillers and is low in sugar with amazing flavor!
HOW TO MAKE IT:
Add 1 to 2 tablespoons of hot chocolate mix and 1 cup of any milk of your choice. We recommend soy milk for a creamier version. Whisk on medium heat for approximately 2 minutes.
BREWING INSTRUCTIONS ARE FOUND ON THE BACK OF EVERY POUCH!
Be sure to tag us @dragongirltea on IG for a chance to be featured!
ABOUT OUR BOXES AND POUCHES
Our tea boxes and pouches are 100% recyclable.
ABOUT OUR TEA BAGS AND WRAPPERS
Our tea bags and wrappers are 100% compostable! They have been shown to break down in 30 to 90 days. The wrappers are made from corn, and are not harmful to the environment.
DGTco is doing our part to curb plastic pollution and environmental degradation. We hope you will support us, so we may keep doing our best!
SHIPPING:

Free shipping on the US on orders over $50.

Variable rates based on location on orders in the US, under $50.

Variable rates based on location for orders outside of US

RETURNS:

If there are any issues with your order, please email us at Hello@dragongirltea.com and we will be sure to make your order right.
Ingredients
Organic cacao powder, organic peppermint flavor, organic dextrose, organic coconut milk powder, organic cane sugar, vegan chocolate chips
HOW TO MAKE IT
1. First stir up the contents of your pouch with a spoon.
2. Add approximately 1 to 2 heaping tablespoons of Hot Chocolate mix to your choice of milk in a saucepan.
3. Use approximately 6 to 8 oz of milk. We recommend soy milk, (some milks like almond, may be a little thin.)
4. Whisk it well or stir briskly on medium heat until smooth, enjoy!

FAQS
Yes, all of our Hot Chocolates Are vegan, organic, and made with good ingredients.
Our Organic Hot Chocolates are made with organic cacao and have less sugar than any other Hot Chocolate on the market. Organic cacao has a host of proven health benefits including being full of anti-inflammatory flavanols. Flavanols may protect your body against cardiovascular disease, improve your blood circulation and lower the risk of stroke. And just like tea, cacao is full of polyphenols, which protect cells from premature oxidation - meaning it has anti-aging effects! Even better, all natural cacao is a great mood lifter and research has shown it's a natural antidepressant.Dragon Girl chose to add Vegan Hot Chocolates to our lineup, because We believe enjoying delicious food and drink can also have much needed health benefits.
Our Hot Chocolates have 40% less sugar than leading brands and yet are still packed full of flavor!
EXPLORE THE WORLD OF DRAGON GIRL