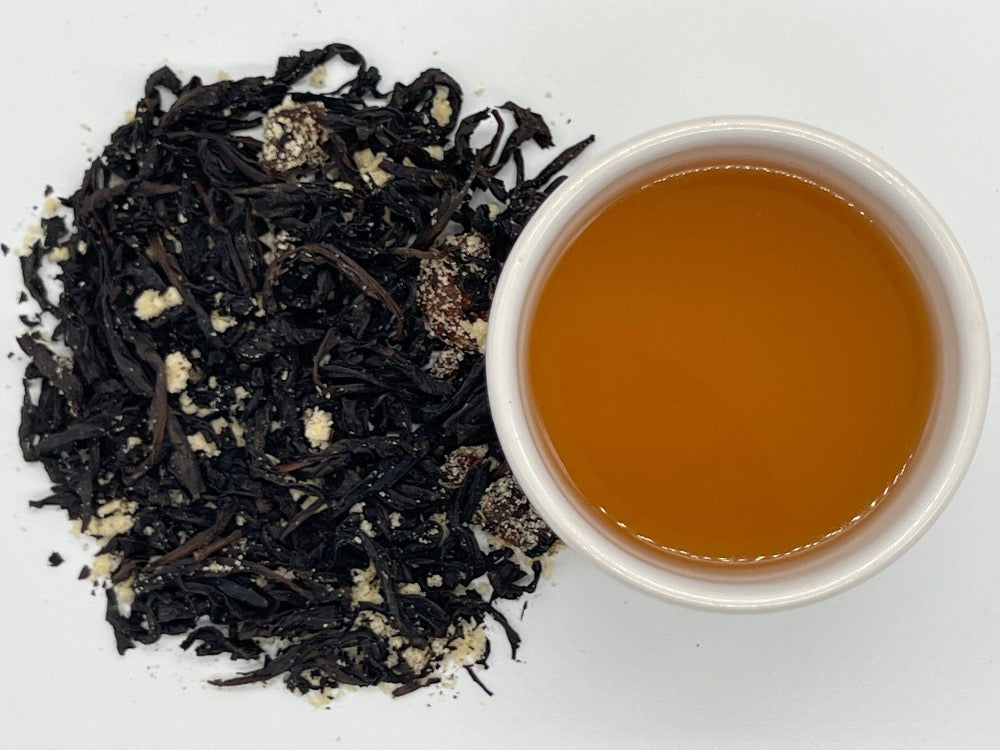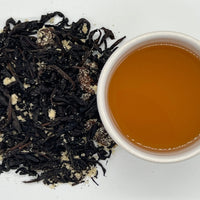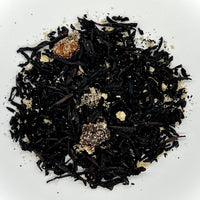 Hazelnut Cookie Tea - Compostable Tea Bags
Dark oolong tea with hazelnut sweetness and a touch of coconut
Compostable Tea Bags | 43.5g (Makes 12 cups)
Dragon Girl's Hazelnut Cookie Tea is a delicious and rich tea that is a great morning or afternoon pick-me-up.
The intoxicating hazelnut aroma even tempts coffee drinkers to skip a cup of coffee for the morning! Our Hazelnut Cookie Tea is warm and comforting with just the right amount of sweetness. An added benefit is this tea is good for the stomach and digestion and contains organic ingredients. 
Did you know that hazelnuts are extremely nutritious? We only use organic hazelnuts for a healthy cuppa.
Be sure to tag us @dragongirltea on IG for a chance to be featured! 
ABOUT OUR BOXES AND POUCHES
Our tea boxes and pouches are 100% recyclable.
ABOUT OUR TEA BAGS AND WRAPPERS
Our 100% compostable, unbleached tea bags are 3 to 4 times the size of regular grocery tea bags and are filled with whole herbs, tea, fruit and flowers. They contain no unhealthy additives, preservatives, cheap fillers, or low quality teas!
Our tea bags and wrappers are 100% compostable! They have been shown to break down in 30 to 90 days. The wrappers are made from corn, and are not harmful to the environment.
DGT co is doing our part to curb plastic pollution and environmental degradation. We hope you will support us, so we may keep doing our best!
SHIPPING:

Free shipping on the US on orders over $50.

Variable rates based on location on orders in the US, under $50.

Variable rates based on location for orders outside of US

RETURNS:

If there are any issues with your order, please email us at Hello@dragongirltea.com and we will be sure to make your order right.
Ingredients
Oolong Tea, Organic Natural Hazelnut Flavor, Organic Dextrose, Organic Coconut, Lemon Flavor, Organic Apricot
BREWING TIPS
1. BOIL your water to approximately 195 degrees (medium bubbles).
2. For best results (optional) POUR the hot water over your tea bag to wet it first, then dump out the water.
3. POUR approximately 8-10 oz. of water over your tea bag.
4. Steep 1-2 min (oversteeping can make it bitter) and REMOVE tea bag.
5. Reuse the tea bag AGAIN, steep 2-3 min for a second cup, enjoy!

FAQS
Each of our tea bags can be steeped at least twice. Some people report they can steep 3 or 4 times per tea bag, especially for certain flavors.
For most of our tea bags, we recommend steeping for 1 minute for the first steeping and 2 minutes for the second steeping. Each product pouch has the steeping directions on it for reference, but you can also vary the steeping time depending on your preference.
Yes, our tea bags are made of wood pulp fiber and are 100% compostable after about 90 days in your home compost or compost service.
We pack each tea bag with whole fruits, herbs, flowers, and tea. While store bought tea bags are often 2 g per bag made with ground up ingredients (usually low quality), most of our tea bags are 4 to 5 g per bag and some are almost 10 grams! 
EXPLORE THE WORLD OF DRAGON GIRL